REMOTE WORK
WITH MICROSOFT TEAMS
Working remotely is a challenge, in many ways. Keeping a team productive and comfortable, securing documents and files, and ensuring efficient communication between employees can keep managers up at night. With help comes a versatile and multifunctional, yet user-friendly tool – Microsoft Teams.

It's a cloud application that is an efficient center for managing your company, teams, and ultimately a single project. With a multitude of capabilities, integrated programs and applications, we are really only limited by our imagination when using Microsoft Teams .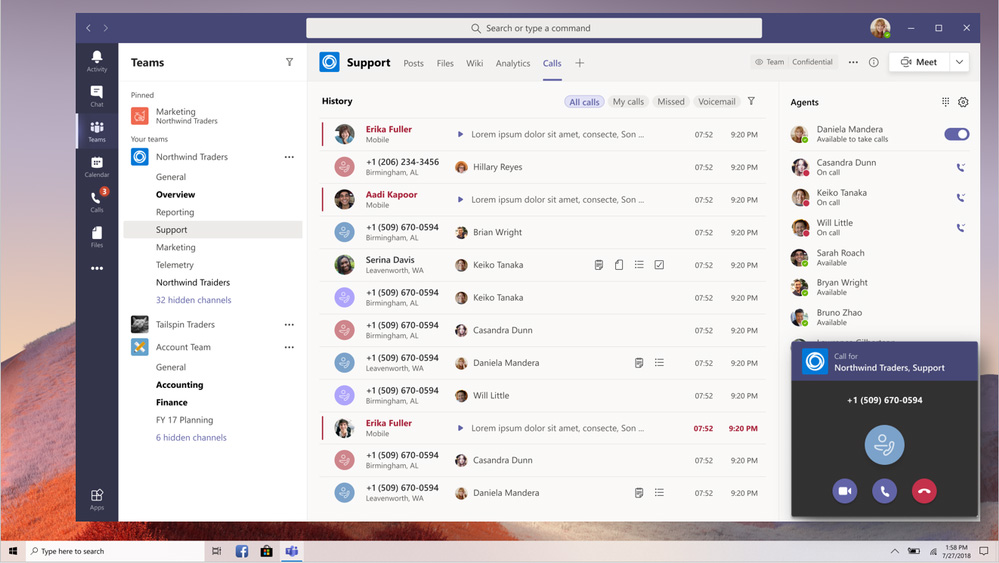 What do you get with microsoft teams?
First of all, a dedicated place where you organize the work of a specific group of people – a team. You can create teams at your discretion and individual needs: for example, permanent, for a specific department, or only for the duration of a specific project or implementation.
Interestingly, within the teams you can also collaborate with people outside your organization.
Within a given team, you can:
organize online meetings,
talk in team chat,
store and collaborate on files online (e.g., create a presentation with several people at the same time),
Create tasks and assign them to specific people,
create notes,
Work in teams with guests from outside your organization,
use many additional applications integrated with Teams (you can find the full list at this link) – conveniently and from one place.
Besides, Microsoft Teams will allow you to achieve a higher level of communication and organization of your work with:
Conveniently communicate with any members of your organization, as well as those outside, through a chat option with any number of participants,
the ability to schedule appointments on a calendar synchronized with your Outlook with the help of a scheduling assistant,
plan your work and daily tasks using the Planner or ToDo app built into your Teams platform,
managing and working on shared files in real time.
Want to see how Microsoft Teams works in practice?
We invite you to take a look at the Teams application demo and our training materials:
WHY microsoft teams may be best tool for your business?
Convenience and multifunctionality in one
With Teams you get the functionality of several tools for collaboration, file organization and meetings at the same time. Cloud drive functionality, Zoom-like meetings, Asana-like project organization or Notion-like shuffle creation - all of this is available in Teams from one place, from the mobile app, PC app or from a browser on any device.
Integration and working on files in the cloud
Integration means that directly from within Teams, you can edit and collaborate on, for example, documents from classic Office applications such as Word, Excel, or PowerPoint - without having them locally and without leaving the Teams application. No more sending back and forth corrected versions of files in dozens of emails!
Security
Teams encrypts our data both during transmission and at rest. For video and audio clips, text files, chat records, or screen sharing, it uses the SRTP protocol that protects data in real time. What's more, unlike its competitors, it can protect users from data loss and keep malicious files from opening.
Multitasking and scalability
With Teams, you can conduct a video conference where you share a poll or conduct a survey for all participants - all from a meeting window. You can also integrate third-party applications in one place and expand your Teams with new functionality without the help of developers.
#1
We will match you with the right Microsoft licenses that you can buy from us.
#2
We will implement and configure Teams in your organization.
#3
We will train you on how to use Teams, no matter what level you are at.
#4
We provide ongoing support for users.
What if you already have Teams?
Do you have Teams deployed in your company, but you don't know where to start and how to use their full potential?
Or maybe you would prefer to take a closer look at Microsoft Teams features before making a purchase?
Check out our dedicated training courses! With Microsoft Teams we will bring you to a new level of productive work. We are ready to support you – contact us!
Describe what we can help you with: