Antivirus software is part of the basic protection of your corporate data, systems and devices. Having it is essential, but not the only action you can take. Combine a good antivirus tool with the management capabilities and proper configuration, and you'll have a solid layer of protection in place for your company.

Why do you need antivirus software?
Malware consists of viruses, spyware, encryption software (ransomware) and other potentially unwanted software that, at best, can cause damage to your device. Every day you click on various links, open attachments, sometimes you need to download a file or program. To protect your computer from malware that insidiously exploits your every virtual move, you need always up-to-date, antivirus software.
What to follow when choosing?
The most convenient antivirus solution is one that runs unnoticed in the background, constantly protecting your resources while keeping the user engaged. At the same time, it should protect against a broad spectrum of threats – not only viruses, but also phishing, ransomware and other threats that can cause leaks or damage of your data.
Business antivirus software from market-leading vendors such as Malwarebytes and Bitdefender give you a spectrum of advanced protection features and the ability to use selected features depending on your needs.
1 - Sale of licenses
competitively priced
2 - Implementation from scratch
3 - Replacement of current antivirus
4 - Monitoring
1 - Sale of licenses
competitively priced
We sell antivirus software licenses and subscriptions at competitive prices with various billing models.
The software is licensed per device on which it is installed. Depending on the billing method (annual, quarterly or monthly), we offer different prices. For a quote, feel free to contact us via the form at the bottom of the page.
2 - Implementation from scratch
3 - Replacement of current antivirus
4 - Monitoring
provide your company with comprehensive protection
W naszej ofercie znajdziesz oprogramowanie antywirusowe wiodących producentów na rynku.
Potrzebujesz wsparcia? Would you like to receive a quote? Depending on your organization's needs, we will help you choose the right solution and offer competitive prices.
Central security management
Remote protection, invisible to users/employees, one easy-to-use console.
Endpoint protection
Process monitoring, malware blocking, machine learning, disinfection, quarantine, rollback. Everything for both workstations, physical and virtual servers, cloud and mobile devices.
Network security
Bitdefender protects against theft and password cracking, such as from Brute Force attacks, and enables prevention of Network Expliots attacks.
Endpoint Risk Management
Identify, assess vulnerabilities and system misconfigurations and identify endpoints that put the organization at risk.
Protection against fileless attacks
Protection against sophisticated attacks executed from the command line before they are executed.
Bitdefender Global Protection Network
Identify threats with the largest cloud of more than 500 million protected machines and machine learning.
Do you have sufficient protection?
If you have any doubts about the quality of protection for your IT infrastructure or end devices – contact us. During a consultation or audit, we will identify areas for improvement and propose specific solutions.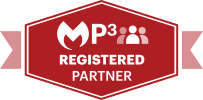 We are a Malwarebytes Partner Reseller, which means we offer you the full spectrum of protection from Malwarebytes at competitive prices!
Describe what we can help you with: