SharePoint - a corporate intranet
Need a shared, secure place to store procedures, customer data or workflows? Or maybe you already have such a space, but hardly anyone uses it because it is poorly organized or even chaotic? In the jungle of company files, documents, procedures, manuals, finding specific information can be time-consuming and frustrating. Microsoft SharePoint application helps in both cases.

The company's Intranet is the center of in-house information distribution. It is a place to store, share business files, data and contacts, where you can conveniently search for the data you are interested in. Every organization is different, and as a result, every corporate intranet will look a little different. What should characterize a good intranet is its security, ease of adaptation to individual company needs, intuitive interface, or scalability.
Microsoft SharePoint, which is part of Microsoft 365, is one of the most popular technologies for intranets in the world.
how does sharepoint work?
SharePoint is an easily modifiable site accessible from a web browser. Configuring it as a corporate intranet is its most popular use, and the reason is very simple – SharePoint allows you to create a convenient and transparent place for teams to securely store and share files and various data. You give each site and file individual permissions. So you can be sure that your confidential files will not fall into the wrong hands.
What about the situation when you accidentally delete part of the file or completely lose the content of the document? An additional layer of security is the ability to see the changes made to it, and to revert to a previous version – thus reducing the risk of data loss.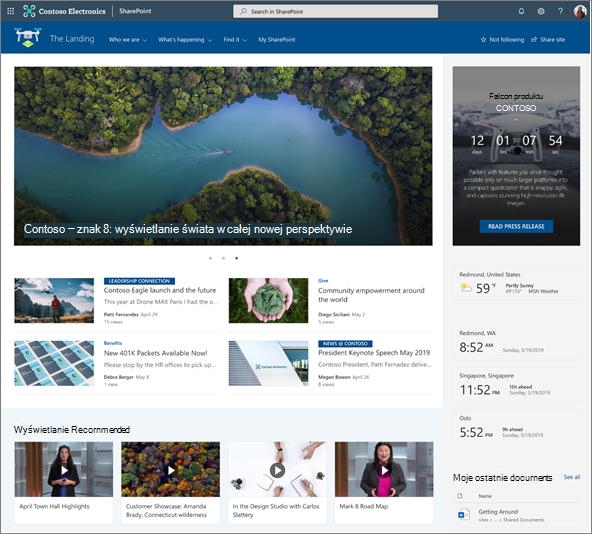 If you want to start using a solution used for document management by the largest companies in the world – contact us!
#1
We will match you with the right Microsoft subscriptions that you can buy from us.
#2
We will implement and configure SharePoint in your organization.
#3
We will build your intranet according to the guidelines.
#4
We provide support for SharePoint and Microsoft 365.
ADVANTAGES OF MICROSOFT SHARPOINT
Integration
SharePoint allows for integration with other Microsoft tools, such as Teams and OneDrive, enabling you to work comfortably in a digital environment.
Company's document library
The company's daily work revolves around a variety of documents. SharePoint enables convenient and centralized storage, sharing and management of corporate file libraries.
Flexibility and scalability
SharePoint will work in a variety of settings, whether in an organization of 5, 20 or 2,000 employees, adapting to your business needs.
Supporting the company's operational activities
SharePoint is a productivity tool for your organization that will noticeably contribute to your and your employees' satisfaction.
Security
Your data is encrypted, protected from leakage, and file sharing is protected by top-down rules set by the administrator.
Content personalization
With SharePoint, you customize an internal message to a specific department or person based on their location, position, or seniority in the company.
Describe what we can help you with: